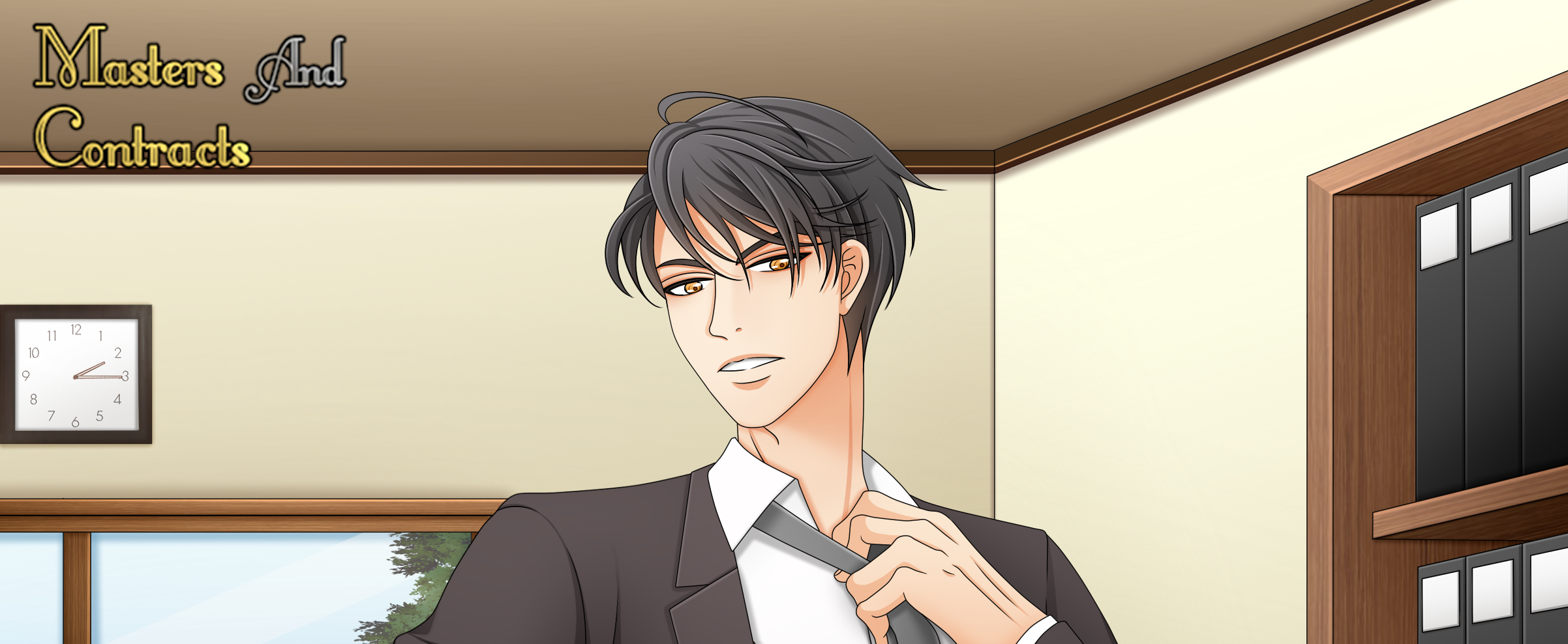 Masters and Contracts Demo (Visual Novel)
A downloadable Visual Novel for Windows, macOS, and Linux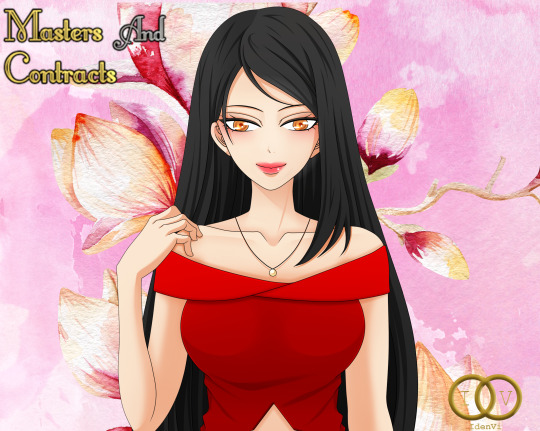 "A small town girl falls into the world of four, wealthy men."
You're an aspiring musician who moves to the glittering capital from a small village, chasing your dreams of becoming a renowned composer.
By day, you're a waitress and by night, you're a pianist at a fashionable restaurant in the city.
One fateful night, four of the city's most eligible and wealthiest bachelors decide to have an impromptu dinner at your workplace...
AND THEY WANT YOU.

You're offered the opportunity of a lifetime, but only if you agree to enter into an iron-clad, contractual relationship with them.
Once you're in, there's no way out.
Do you have what it takes to hold your own against these Masters and their Contracts...?
*Please Note* - There are some placeholders in the 'Story Selection' page. The prices visible in this page do not reflect the final pricing of the routes.
Download
Comments
Log in with itch.io to leave a comment.
I played the demo and I love it, cant wait for it to continue!~
I just finished playing the demo and I can't wait for the game! I am hoping that you will make it available for PC but no matter the platform I will definitely try to get the game! How much will the full game cost? This is so far one of my favorite games I've tried (and this is only the demo!) Thank you for making this!
Hello Genie Love 28!

We're very sorry for the delay in replying, development was temporarily halted but things are moving forward again. At the moment, we're not sure how much the entire game will cost as the boys may be released route by route! However, we're not looking for this to be expensive.

And thank you so much for your support! The prologue has been changed slightly in some ways and - we hope - better than the previous one.
Hi!
just played the demo and I absolutely loved it! I just wanted to know will the full version of the game (when it comes out) only be available on mobile or pc as well? thank you! :)
Hello kasumii_023!
We're so glad to hear you enjoyed the demo! Please keep an eye on the page, as an updated demo is in the works and will be re-uploaded once it is finalised.
With regards to platform availability, initially we had only decided to make Masters and Contracts available on mobile but we are now also considering a pc platform as well. This is not a confirmation, but it is definitely being considered seriously.
Thank you for trying out the demo!
IdenVi
I'll definitely keep an eye on the page and play the new demo when it's out! Thank you for replying and i'm very glad that you are considering releasing it on pc it would be amazing :). Have an amazing day/night!
Is this project abondonned ? :( Where can i follow you ? I sounds like such a funny game, i really wanna play it !
Hello Arrowsen!
No, it's definitely not abandoned! We're still working on it, though when the full game will be released we can't say just yet. The prologue is also being reworked and will be reuploaded when it is ready. A post will be made to announce the new prologue a few days before it's available. We hope you enjoy it!
This was so much fun and has so much potential! I look forward to playing all the routes, but "Mr. Kastiliasu" especially has caught my attention. Several things, though (and note I'm playing on a Mac):
1) When Ale tells MC to call him Mr. K, it seems two hair assets are stacked atop one another. This: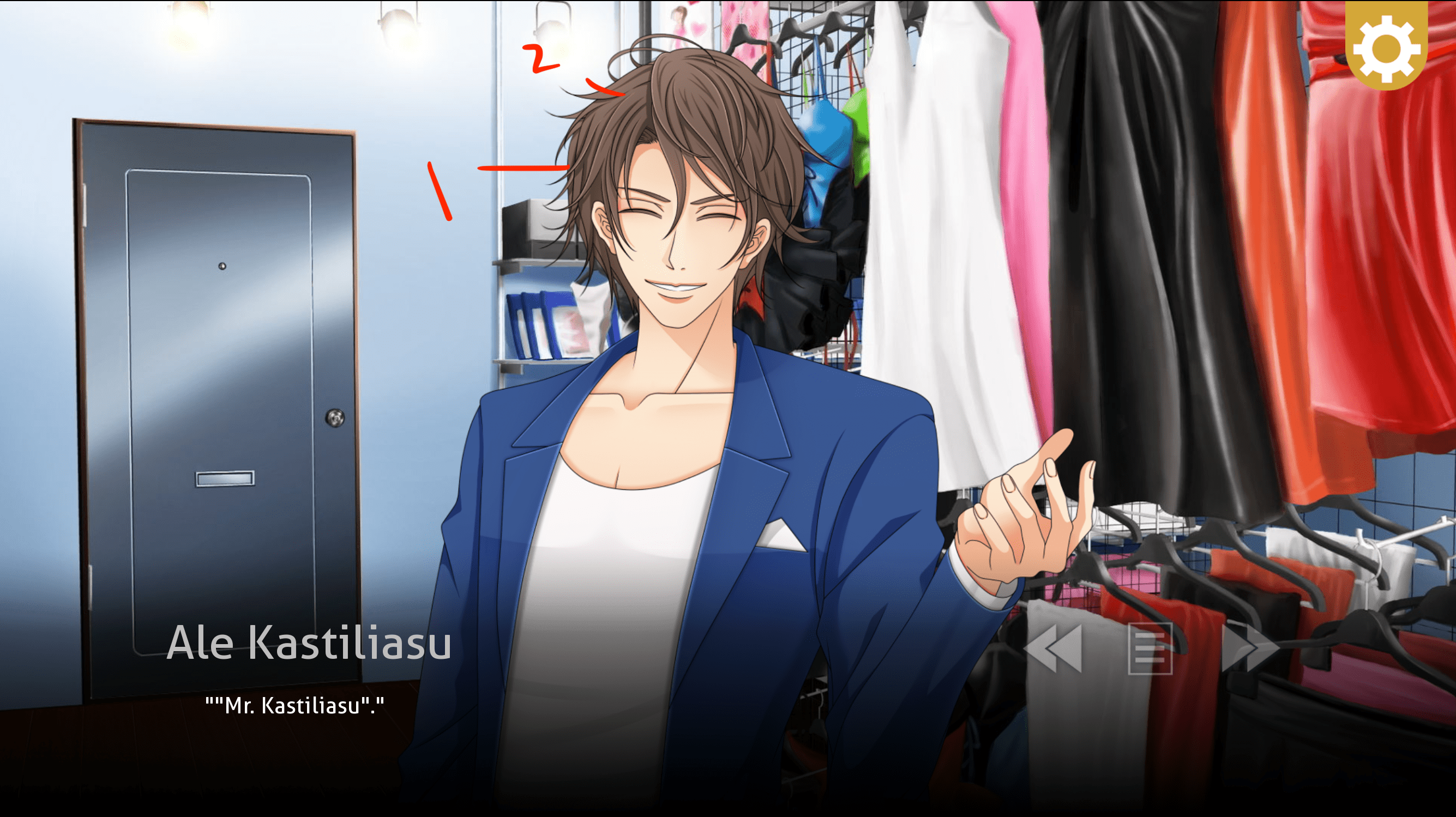 Compared to this: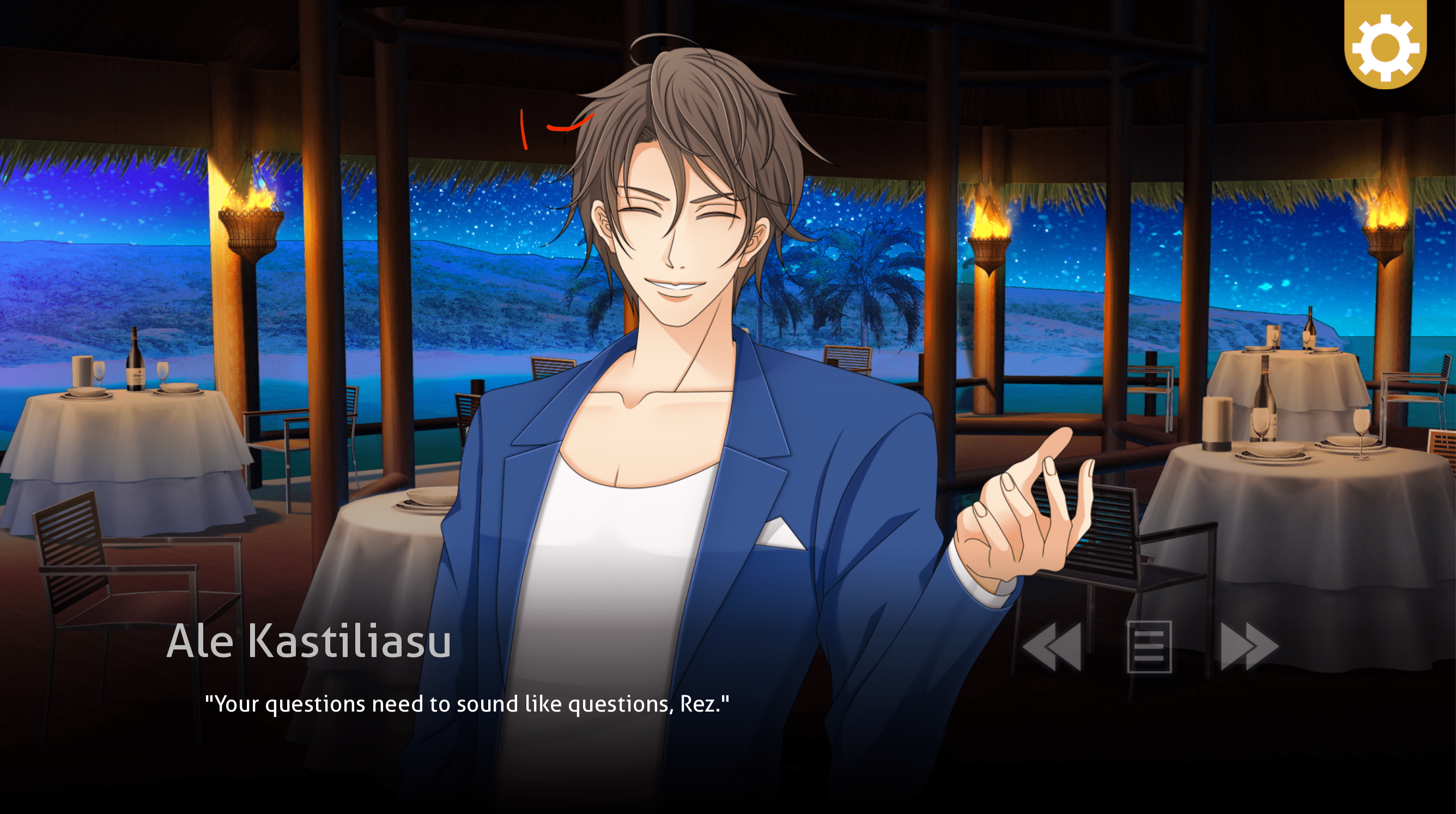 2) This may vary in whatever style one's country follows (English has a lot of different punctuation rules dependent on country), but when using a quoted phrase within a quotation, one doesn't usually use quotation marks within a quotation. Instead, single quotation marks are used.
E.g. "I read, "The signee will endeavor to fulfill all contractual terms stated thus far"" should be "I read, 'The signee will endeavor to fulfill all contractual terms stated thus far.'"
Also, there are usually two kinds of quotation styles. One is American, which uses "double quotations," the other British, which uses 'single quotations.' The reason I bring this up is because the demo uses both at one point. The general rule of thumb for quotation style is to stick to one and see it through. For the majority of the game, double quotations seem to be established style, but then we get the commentary on Gigi's sharp look: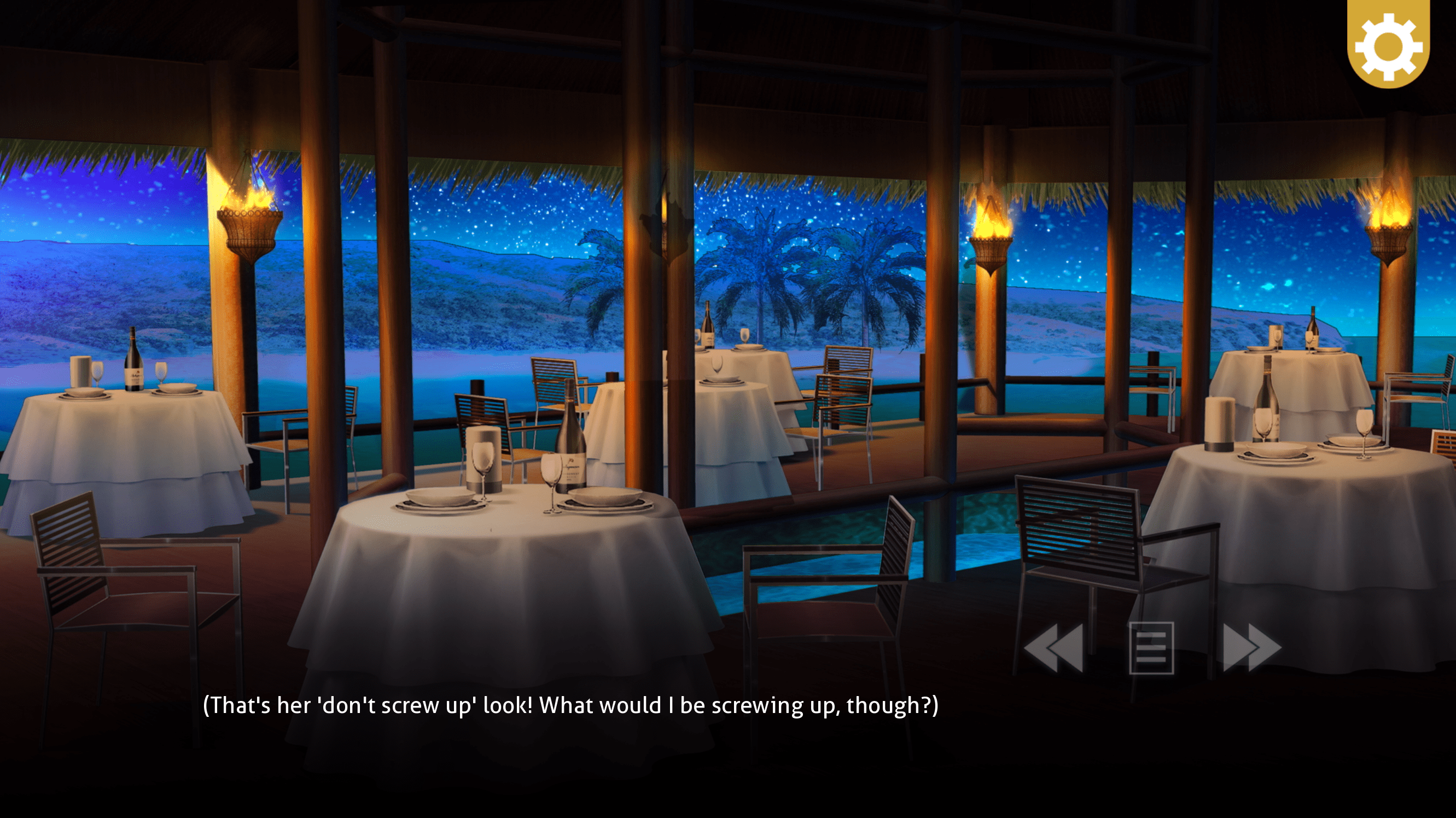 Though the the quoted phrase is a noted thought on MC's part, the phrase is still treated as dialogue and thus should be in double quotations.
Again, all this critique on style can be negotiable because I have no idea what punctuation system the game is using. To me, the style seems closest to the American style so hence all the info I've spouted on about. You're free to ignore it, of course, but I thought it'd be a good point to bring up.
3) On the map, the dash in Valoue's description seems to be misplaced: "An industrial city, Valoue is not as exciting as its neighbors, but it is of crucial importance to the many businesses in Flahze and ultimately—its economy." The dash shouldn't be there, because it disrupts the flow of the sentence and makes it seem as though the sentence changed topics/was interrupted... though it hasn't . If going for dramatic effect, the dash should be after Flahze: "An industrial city, Valoue is not as exciting as its neighbors, but it is of crucial importance to the many businesses in Flahze—and ultimately, its economy." The break emphasizes the importance of the economy, without interrupting the flow of the sentence, while also lending it some dramatic effect.
4) Minor error, but there's no space between "Mr." and "Akkadi" when Gigi asks, "You remember Mr. Akkadi?"
I hope this all helps! I really love the GUI of this game and the story itself seems like a lot of fun. I wish you all the best of luck and health.
Hello DramaJustCalled!
Thank you so much for your feedback and for pointing out the sprite issue! Noted on the points made, those will be fixed asap.
And thank you for explaining the quotation marks. I'm the writer and though I'm British, I'm writing the routes in American English. I do accidentally mix the two styles and somehow overlooked the errors when the scripts were checked.
I'm so glad to hear you enjoyed the demo! I hope you enjoy the routes too, once they're out!
I'd love to play the full game on Windows. I mean the demo can be made for PC so why not :(
There is an error, i cant download on windows ;-(
Hi GloriaRose!
A new link for the demo has been uploaded for windows only. Please try that!
Hi i did try to download the demo right now for windows only but its not downloading? I dont know if there is an error but it does not work for me once more (i dont think its my computer since its new but i can be wrong) Hope it works
Hmm, that's odd since the links seems to be working fine otherwise. It may be a pc issue, if it's not downloading at all! It might help to check the downloads page on your browser, sometimes the download can show up there. ^^
Please make full game available for windows on pc